Monitora automagicamente e gestisci i bandi per la tua organizzazione.
Monitor and manage more than 900 national and European sources, work with your colleagues to prepare your application and grow your impact.
Find financing for your projects
Upload a project and you will be automatically notified of all available financing opportunities based on its characteristics.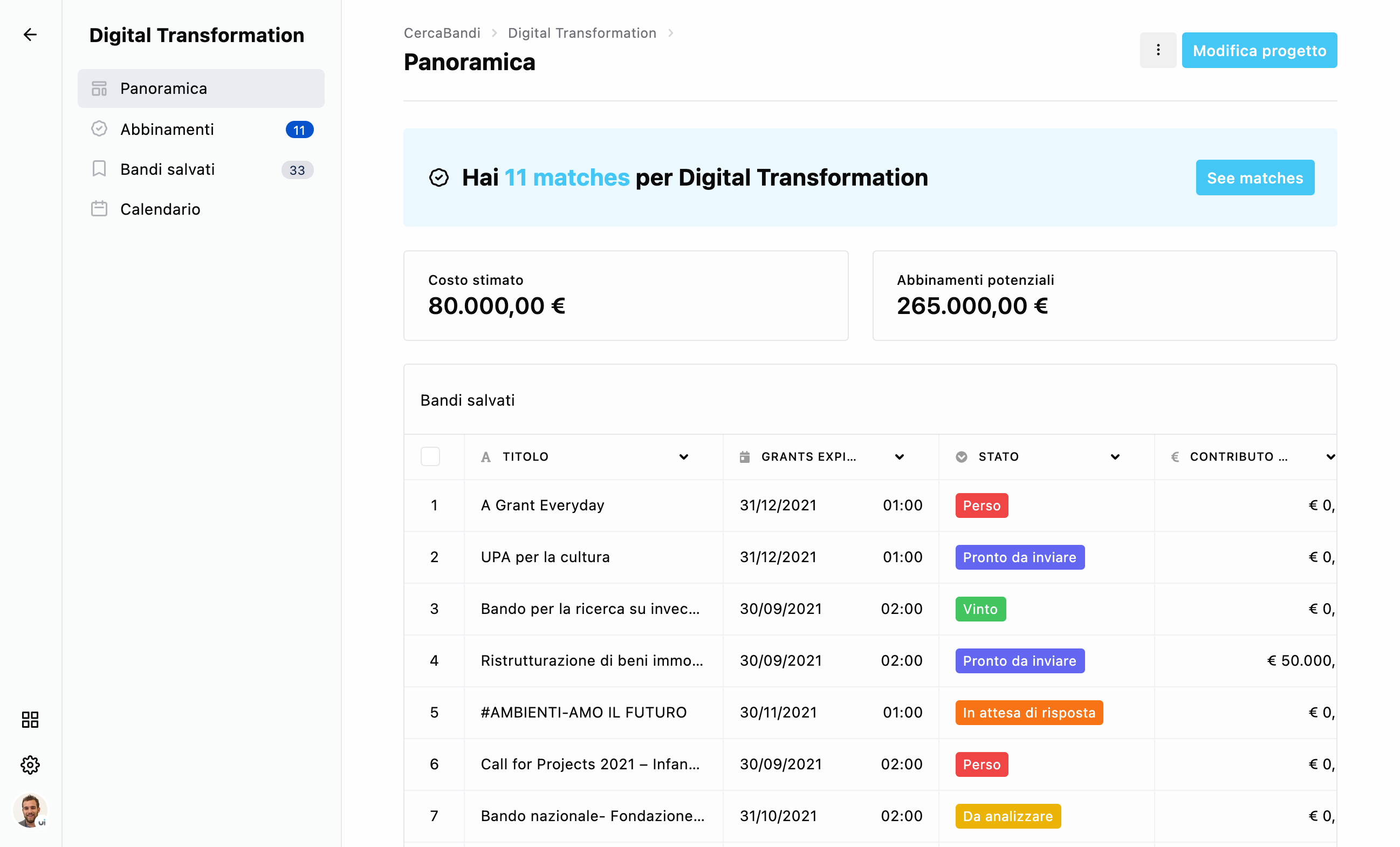 Alert email settimanale
Monitoriamo tutte le opportunità di finanziamento fonti locali, nazionali e internazionali, bandi a scadenza, opportunità a sportello, concorso a premi, donazioni di beni.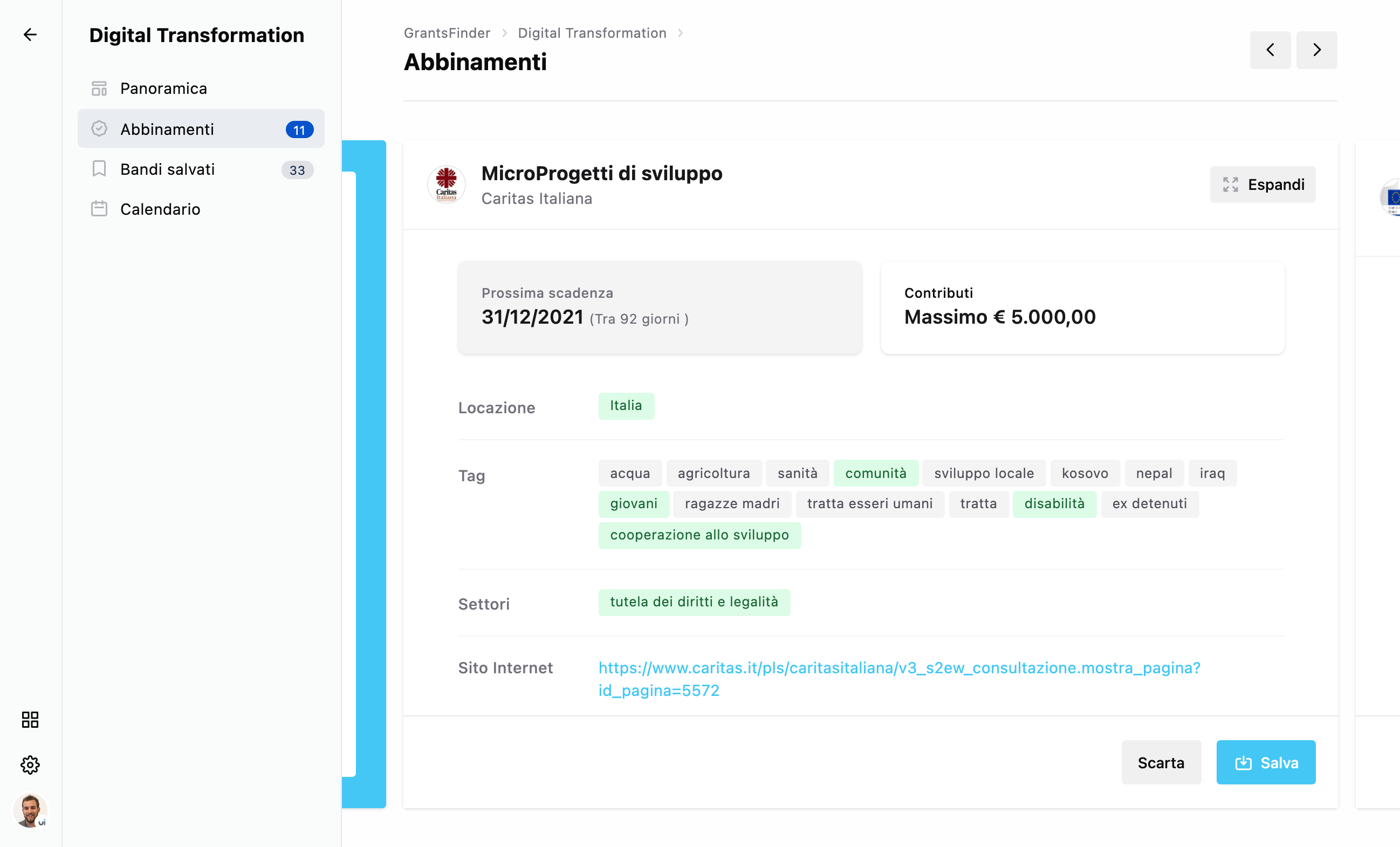 Risparmia tempo
Salva o scarta le proposte che il nostro algoritmo suggerisce per ciascuno dei tuoi progetti. Leggi le schede riassuntive preparate del nostro team di progettisti.
Organizza i lavori
Ad ogni bando salvato puoi associare uno stato di lavorazione, da condividere con il tuo team: da scrivere, da inviare, in attesa, vinto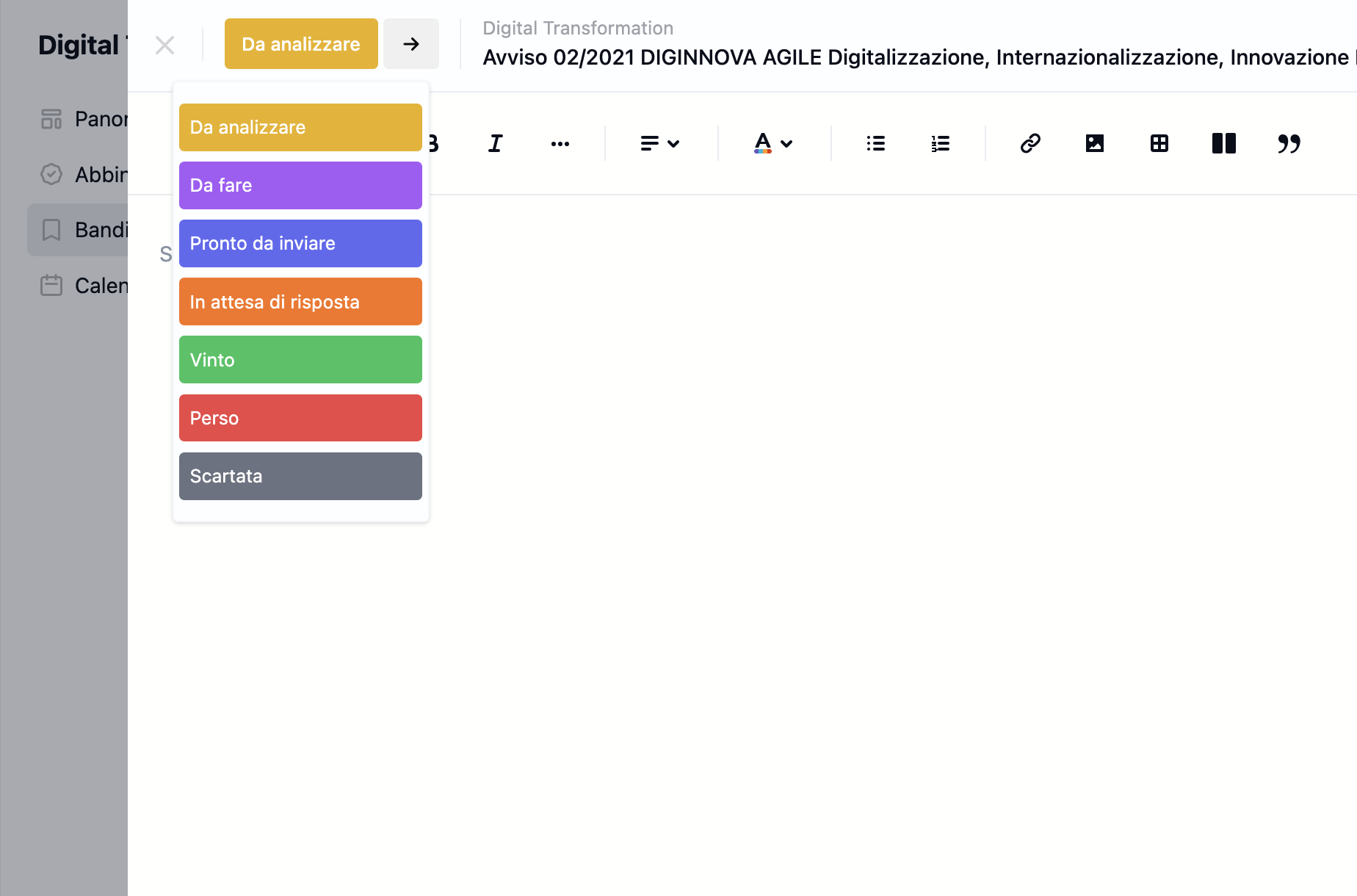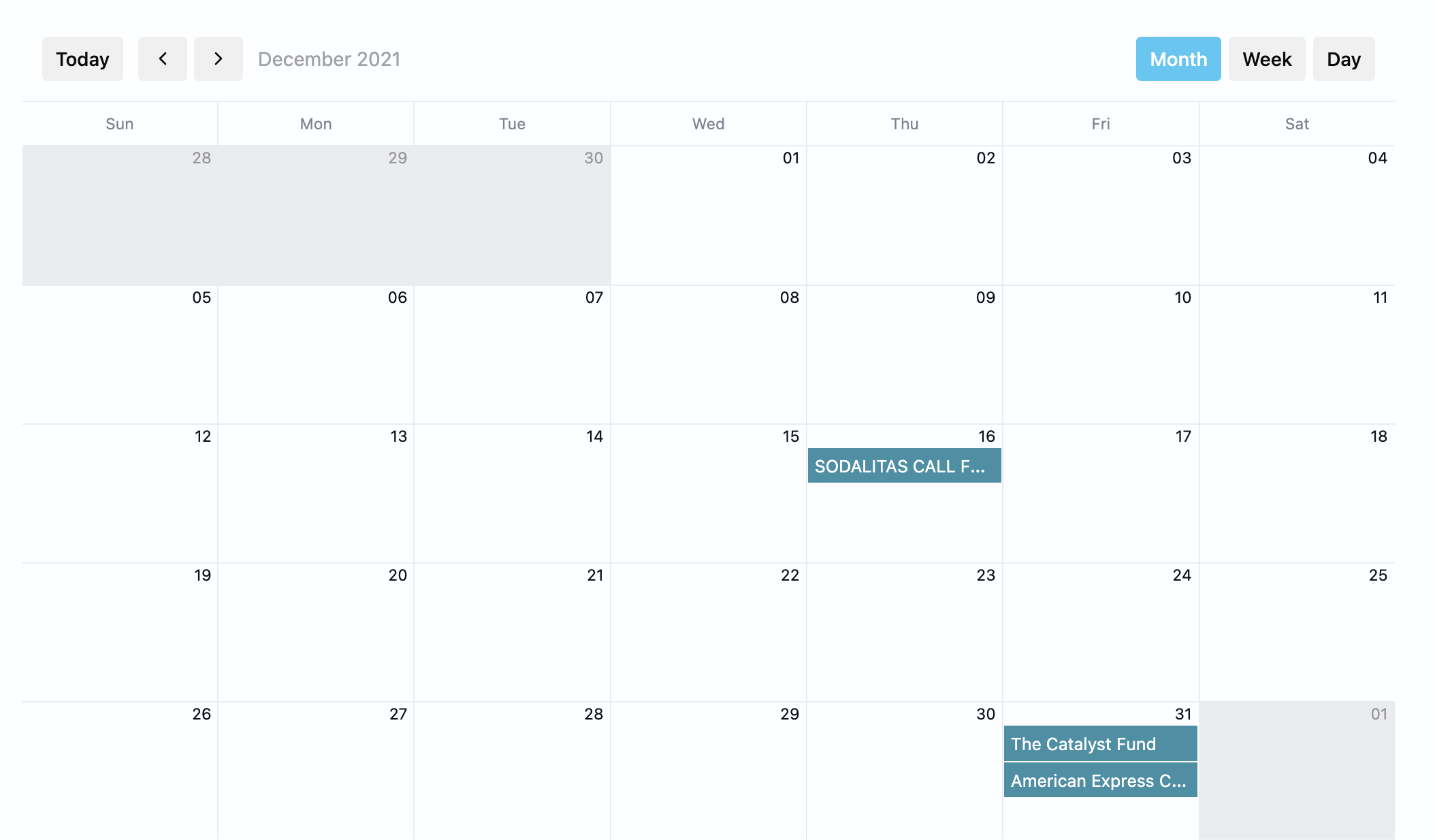 Calendario
Controlla il calendario delle scadenze per non rischiare di arrivare in ritardo nell'invio
Collabora con il tuo team
Puoi aggiungere fino a 5 colleghi e condividere la ricerca e le fasi di invio, ogni bando ha le sue note di lavorazione.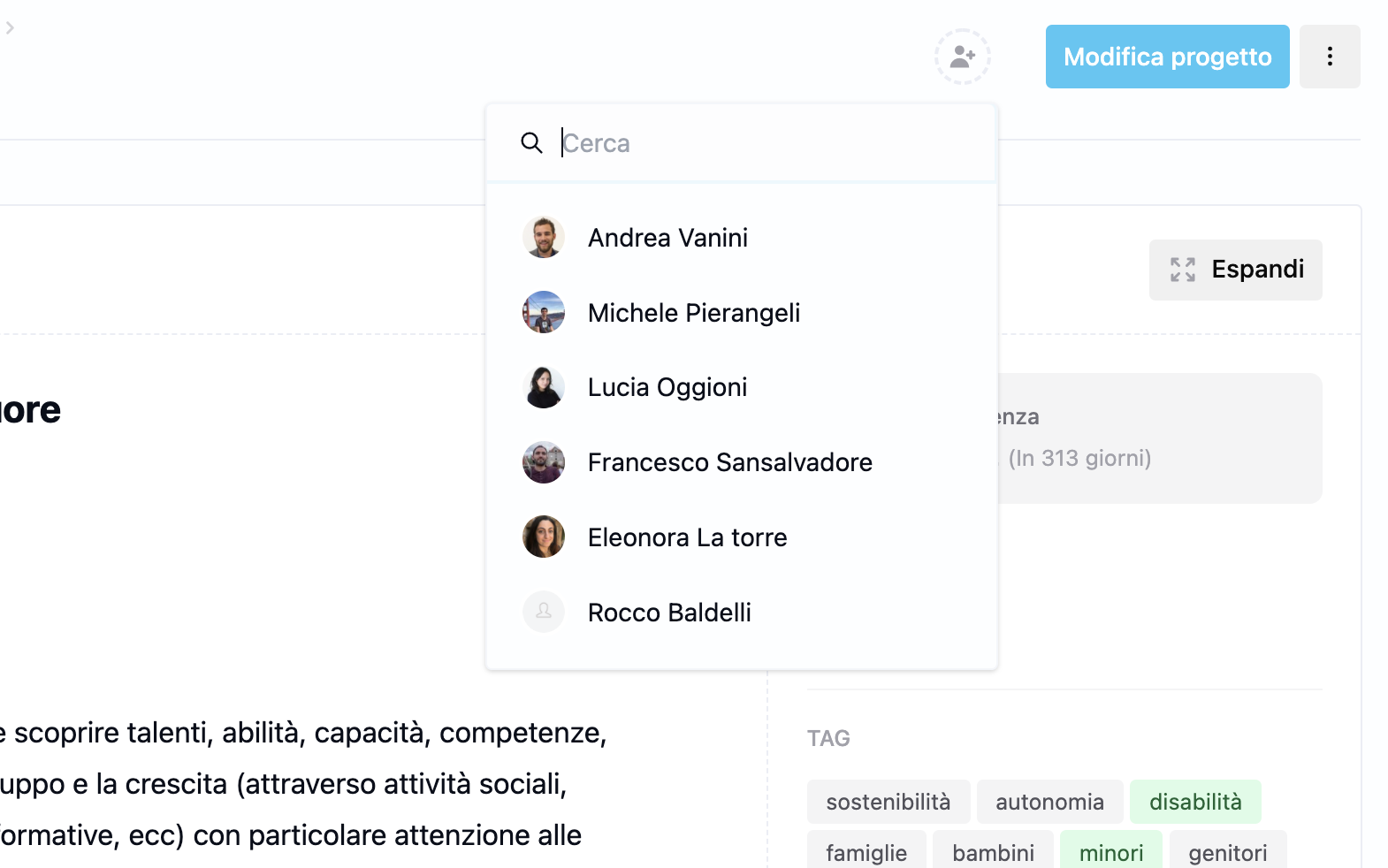 Pricing plans
Start exploring with the trial, then add a plan to go live with full grants matching potential. Upgrade to get more proposals and features.
All prices include VAT!
Basic month
Per gestire al meglio i bandi dell'organizzazione collaborando con i colleghi. Adatto a organizzazioni di piccole-medie dimensioni e progettisti.
What's included
abbinamento specifico per ogni progetto

calendario scadenze

alert settimanale

3 progetti inclusi
Start month
Per gestire al meglio il finanziamento a diversi progetti. Adatto a organizzazioni di medie e grandi dimensioni, freelance e progettisti sociali.
What's included
abbinamento specifico per ogni progetto

calendario scadenze

alert settimanale

10 progetti inclusi

accesso al database delle fonti di finanziamento